Does your car transmission need repair or replacement?
If your car transmission needs repairs or replacement, you've come to the right place. By the time most cars come in they have considerable mileage, often well over 100 thousand miles, so it is no surprise that the condition of the transmission is a justified concern. Heat as well as wear is an enemy of your transmission. The cooler you can keep your transmission the longer it will last. So whatever you need for your transmission we can help. Often good fluid and filter maintenance is all you may need. If you need a complete replacement, we are your resource!
Our complete transmission overhaul usually includes: all new seals and gaskets, new clutches and bands, replacement of any worn or questionable parts, and a new filter and synthetic fluid. Additionally, when your transmission is worked on at All Tech, we update it to the specs for the latest model year for that vehicle. We work on automatic transmissions as well as stick shift manual transmissions.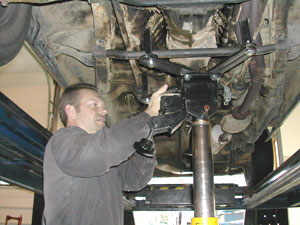 What About a Warranty?
All-Tech Transmission, Inc. stands behind its work so you don't have to worry. Our standard offering is a 12 month 12-thousand-mile warranty on parts and labor!
We also offer the option of getting a complete transmission replacement with a packaged solution (not bench built on site). This option comes with a Nationwide 3 year 100K mile warranty!
Transmission trouble while traveling? Let us do your transmission replacement and while getting you back on the road, you will receive a traveler's warranty certificate that is honored at ANY US shop for up to 3yrs or 100K miles.
There is no need to take your car to a dealership for the manufacturers recommended service. For a fraction of the cost come to ALL-TECH TRANSMISSION. Be sure to ask how you can get a 3yr/100K mile warranty!